Exterior Painting in Christiansburg, Blacksburg and Radford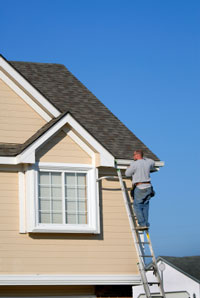 Christiansburg exterior painting serves two functions, the first is protection. A good exterior paint job will keep sun and moisture away from the surface. The second function of exterior paint is to beautify the exterior of your home by giving the desired color and finish. As professional Christiansburg painters, it is our job to make sure that the surface is properly prepared before applying the paint in order to provide your home with both protection and beauty.
At Eastern Construction, Inc., our painters offer house painting that uses the highest quality paints and coatings. We use only the trusted brands of exterior paint, with proven effectiveness against sun, rain, mildew, chipping, cracking and peeling. By providing thorough attention to detail, you will get the quality, professional Christiansburg exterior paint job that you deserve. Contact our Christiansburg remodeling contractor and painter for more information on our exceptional painting services available.
Our Exterior Painting Services Include The Following:
Painting
Exterior Painting
House Painters
Exterior Paints

Exterior Paint Colors
Paint Siding
Exterior Painting Estimate
Exterior Painting Services

Painters
Exterior Paint
Painting Services
House Painting
We Provide Exterior Painting in The Following Towns in Virginia
Blacksburg, VA | Christiansburg, VA | Radford, VA | Floyd, VA | Salem, VA | Roanoke, VA | Pearisburg, VA | Pembroke, VA | Wythville, VA | Pulaski, VA
Recent Articles About Exterior Painting
If you are looking for Exterior Painting in Christiansburg, Blacksburg and Radford then please call (540) 357-1454 or complete our online request form.