Professional Electrical Services in Christiansburg, Blacksburg and Radford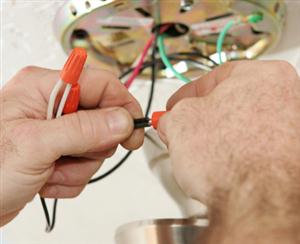 Our expert Christiansburg, Blacksburg and Radford electrical repair contractors can come to your home and diagnosis any problem you may be having. Our trucks are fully stocked to ensure that we have the right tools and materials to ensurethe best service for your home. We will do all your electrical work personally to guarantee an excellent job for you. We make sure we keep a clean working environment and take all trash with us at the end of each day.
We use a system of approach that allows our technicians to logically and systematically analyze a circuit and determine exactly what is wrong. We also understand and effectively use tools such as prints, diagrams and test instruments to identify defective components.
At Eastern Construction, Inc, we are able to do any type of repair or electrical project. No job is too small and with just one call, we do it all! Get started right away by calling our team of highly qualified electrical repair contractors.
Our Electrical Services Include The Following:
Electrical Repairs
Panel Upgrades
Electrical Remodeling
Electrical Services

Electrical Installation
Electricians
Electrical Inspection
Electrical Wiring

Lighting
Outlets & Switches
Electrical Upgrades
Electrical
We Provide Electrical in The Following Towns in Virginia
Blacksburg, VA | Christiansburg, VA | Radford, VA | Floyd, VA | Salem, VA | Roanoke, VA | Pearisburg, VA | Pembroke, VA | Wythville, VA | Pulaski, VA
Why Christiansburg, Blacksburg and Radford Should Hire Us For Their Electrical Repair Needs
Our handyman will work with you to ensure that you are kept up-to-date throughout the project. We want to ensure that every homeowner is completely satisfied with the finished project. At Eastern Construction, Inc, our Christiansburg, Blacksburg and Radford handyman strives to provide homeowners with a service experience that is unmatched.
Eastern Construction, Inc takes pride in every project we begin. This pride shows in our finished projects with professional quality each and every time. Our professionals have years of experience in the home repair field. This experience allows us to complete our projects on time and with unmatched quality.
Recent Articles About Electrical
If you are looking for Electrical in Christiansburg, Blacksburg and Radford then please call (540) 357-1454 or complete our online request form.